Airbrush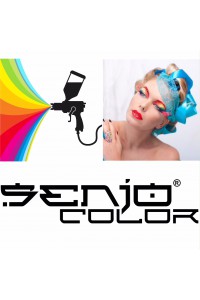 Senjo Color has establish an airbush gun to the market. Fitting all requirements and needs of what an artist could have!


Airbrush is a great way to cover large areas of surface cleanly, evenly and qick with paint. Could be used on skin, cardboard boxes, canvases, walls etc... Professional artists and hobby painters use this technology as well as theater people.
By the way, the term "airbrush" goes for both the tool and technology the way the work has been created.

Liquid paint is sprayed so finely that it dries as soon as it hits the surface. The sprayed ink is sprayed so finely that the sprayed paint and the surface remain dry. There are colors that contain larger pigments and others are with fine pigments, therefore is important to choose the right nozzle.



Senjo Color offers two types of ink – waterbased and alcohol based. Both kinds could be used on skin, prosthetics (latex or foam).


When an artist works with an airbrush needs a compressor and matching parts too. Whether hobby or professional atrits, the right airbrush tools should be selected for the righ purpose, for the right work.

Here is example of the areas an airbrush could be used: face- and bodypainting, wall painting, cake decoration, makeup, coloring prosthetics, painting cars etc...
---
Показва 1 до 3 от 3 (1 страници)